I joined Wikibuy when it was just four of us working out of a one-bedroom apartment. Since then, we've grown the team to 25+, raised millions of dollars, and launched multiple pivots. As Design Director, I'm responsible for orchestrating every experience a customer has, from introducing Wikibuy in onboarding down to the micro-interactions in the checkout flow.
While a customer shops on Amazon, Wikibuy checks for better prices in the background.
When a better price is found, Wikibuy makes it super simple to check out with a trusted seller. If anything goes wrong, Wikibuy is on the hook to make it right.
Wikibuy helps customers buy with confidence, even if there isn't a lower price available.
Wikibuy also offers savings on similar products.
Wikibuy always appears in the bottom right-hand corner of the screen to notify the customer about better prices.
The customer primarily interacts with Wikibuy through in-page notifications and the above modal. From here, it's two clicks to check out with Wikibuy.
After entering her information once, the customer only has to confirm details and place the order. Everything from there is taken care of by the Wikibuy team, through automated scripts or manual tracking.
Until your item is successfully delivered (on time!), Wikibuy takes full responsibility for the order.
At wikibuy.com, the customer has a full history of her savings and another chance to buy with Wikibuy.
Our app map gives us a holistic view of the customer experience.
Maintaining this document make sure that not only are our styles and patterns consistent, but our core flows make sense.
We developed the Wikibuy brand in-house, aiming for timeless simplicity and clarity.
I implemented a number of different processes and best practices for the design team, including using icon fonts, Creative Cloud libraries (lifesavers, if used consistently), and a single brand document to help designers, contractors, and front-end devs stay on the same page while iterating quickly.
The direct and objective Wikibuy voice is a key element of our brand.
We define the Wikibuy voice by what we want to embody—and even more by what we don't. We use these guidelines to evaluate copy and make sure that no matter who writes it, we maintain a singular voice.
As a part of the Wikibuy brand, we created patterns based on US currency to give a subtle nod to money (just in case the bright green wasn't enough).
A slow stroll down memory lane.
Before we pivoted to the new, faster Wikibuy, our tech took multiple minutes to go from adding an item to Wikibuy to knowing the best price. Not an easy thing to stomach as a consumer of the internet. While we didn't encourage customers to sit and watch processing, we hoped to delight them with this animation if they found themselves here.
Wikibuy mobile V1 included all the functionality of the desktop app.
After spending almost two years on the Chrome extension, we designed, built, and tested our mobile app in less than three months. The primary use cases for the then-product were to visit your product history, search for products to purchase, purchase products, and check on an in-flight order.
For mobile, a simple and intuitive search experience is key.
Prototype created in Principle to demonstrate mobile browsing. Our team hoped to minimize long thumb reaches up to the search bar, so I came up with a pattern to pull down to search when the top bar is maximized, playing off the pattern to pull down to refresh.
Mobile V2 is currently being tested as a companion to the Chrome extension.
For the first few months of 2015, we focused exclusively on internal tools.
Wikibuy combines the best of humans and machines. To make the business work, we've invested heavily in site automation, creating the tools that non-developers would need to be able to automate sites in an inexpensive, easily maintainable way. This tool, ScriptBuddy, helps ops specialists write checkout scripts, gamifying the process to make it a little less tedious.
In addition to branding and designing both the customer-facing and internal product(s), I've also been responsible for designing all of the slides for our pitch deck, including shaping the story of Wikibuy for potential investors.
Really, design is only like 60% of my job.
The other 40% is a mish-mash of the kind of stuff you get to do when you work at a startup — shaping company culture (see: dress-like-your-coworker day, taco suit bets, TopGolf events), designing office signage, leading offsite retreats, making sure standups and releases happen like clockwork, and lots and lots of white-boarding.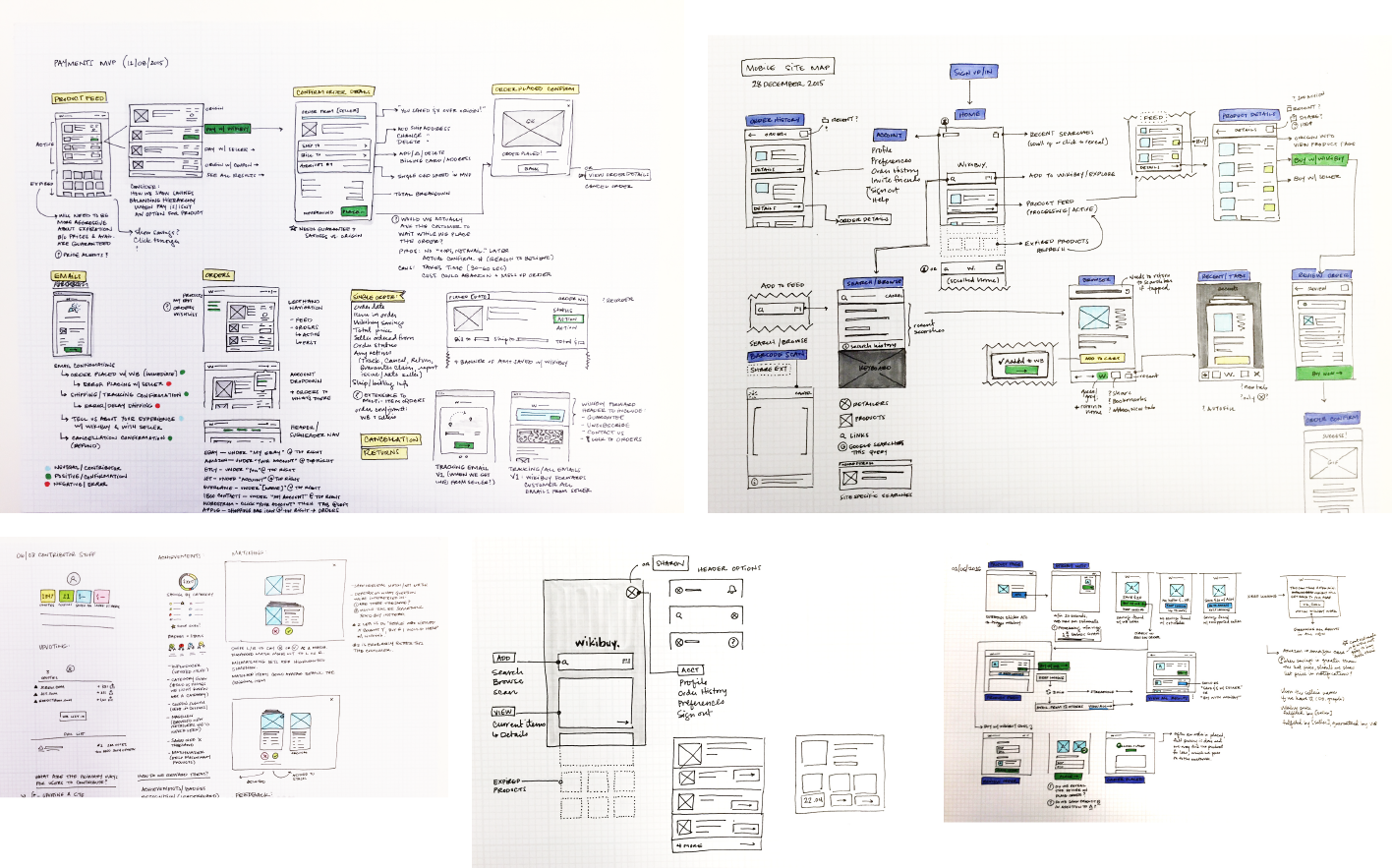 And for every feature described here, there are 25 others that didn't make it.
When a new feature idea is introduced, a big part of my process is sketching out concepts on paper. After validating my sketches with stakeholders, I do some minimal wireframing. Having a well-established style guide lets me jump straight into hi-fi Illustrator mockups, which will either be handed over to the dev team with notes or prototyped using Invision and/or Principle, whatever's needed to get the full idea across. Once designed, I'll check in with dev and product stakeholders for feedback, buy-in, and metric spec-ing. After the feature is built, I spend time testing to make sure that not only is the feature functioning as expected, but also pixel-perfect. Once launched, we keep a close eye on the analytics to see how the feature is performing and iterate from there. Lather, rinse, repeat.